UV WATER STERILZIER 110W-660W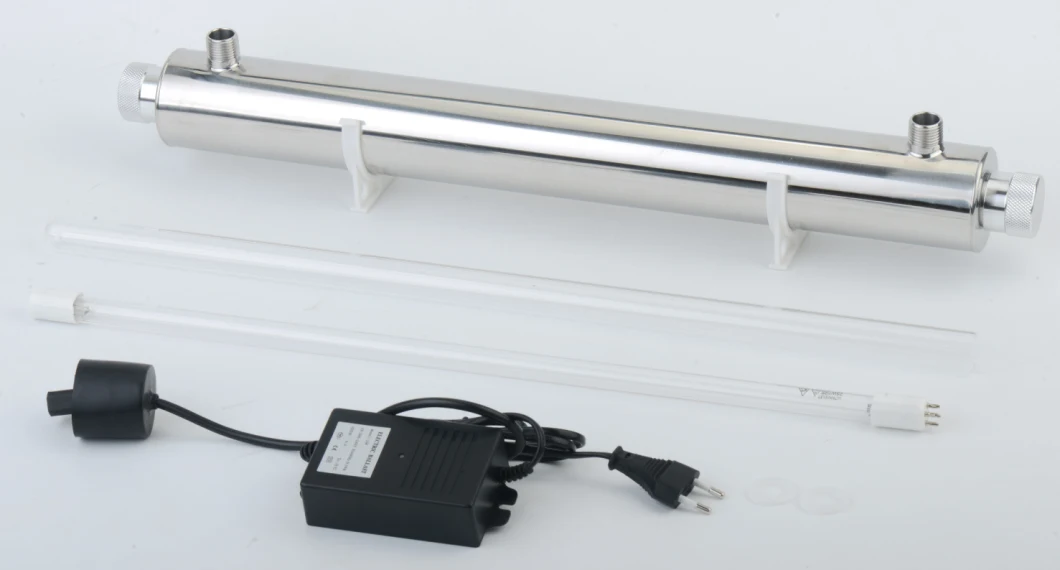 Product name:UV water sterilizer
Disinfection effect:

99.9%

Model

:

PHY-040

Sheel Material:

stainless steel 304

UVC lamp quantity&

Power:

1*40W

Total UV power:

40W

Voltage:

220V/110V

UV

C

wavelength:

254nm

GPM

10GPM(2.3M³/Hr)

Size:

910*φ63.5,
3/4"male

Instrument classification:

Class II

Warranty:

1 Year

After-sale Service:

Online technical support

Brand Name:

PHIYANG&OEM

Place of Origin:

Jiangsu,China
Details Pictures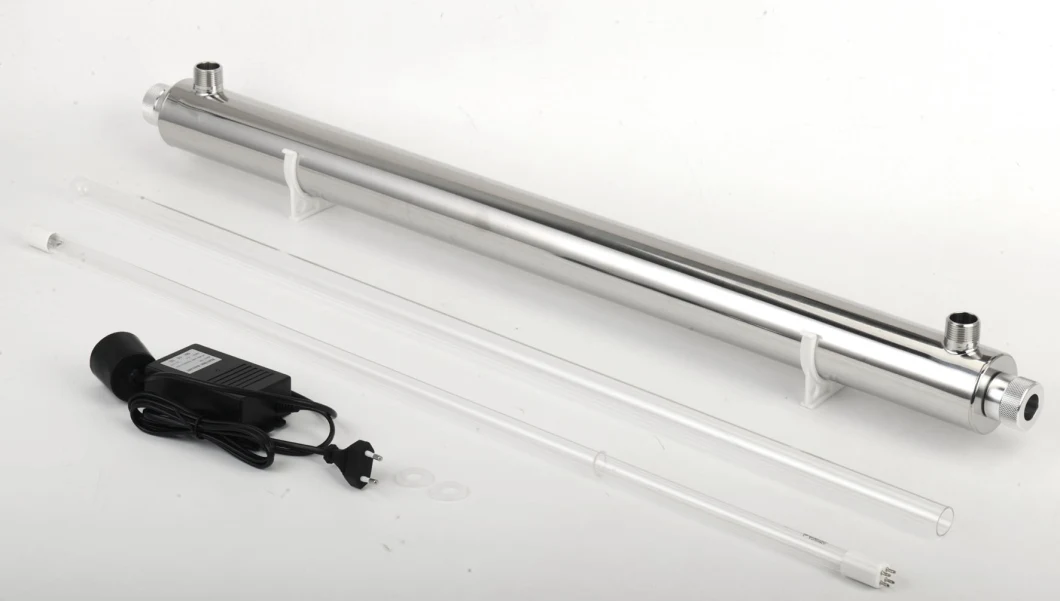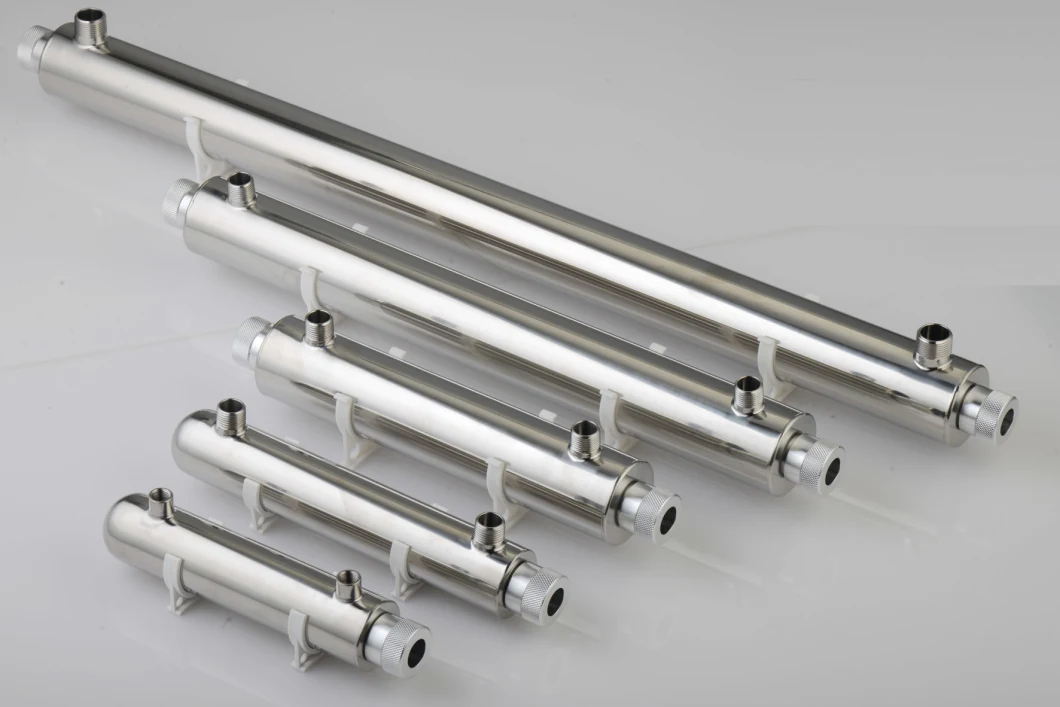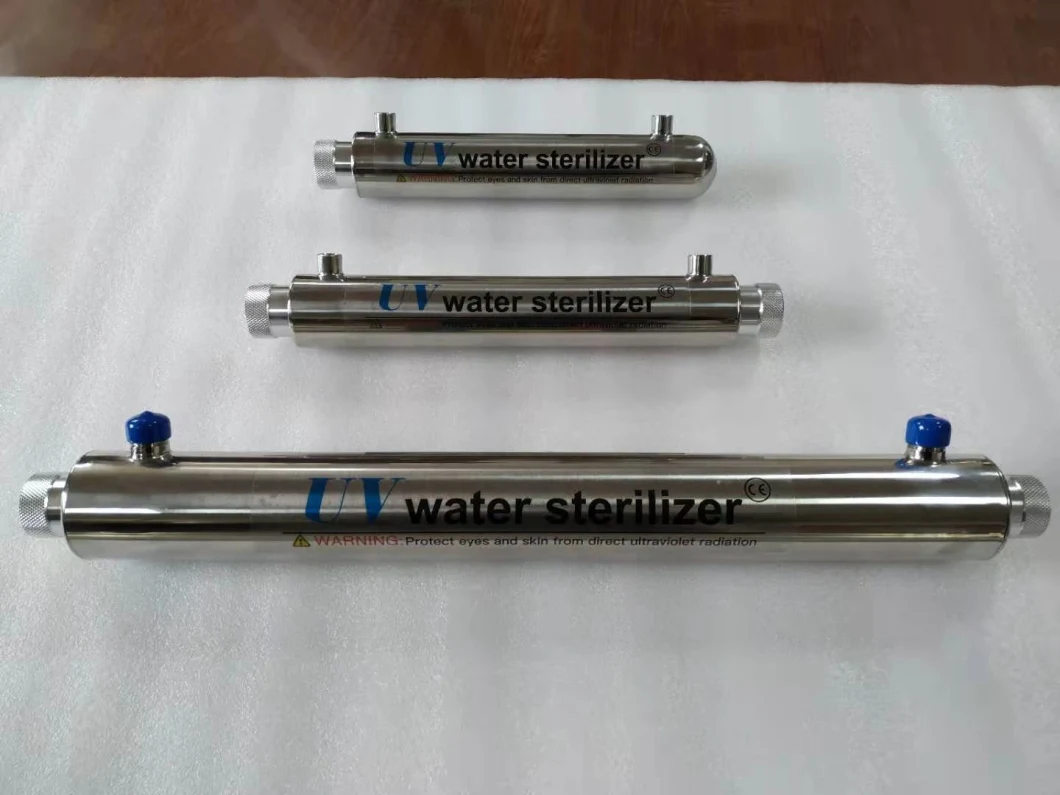 Function
The device adpots a special high strength non ozone ultraviolet sterilizing lamp and an inner wall after the special treatment of micro carbon smelly martensitic stainless steel barrel, outer side of the barrel body with a special polishing treatment the pretreated water flowing in the tube when subjected to ultraviolet 253.7nm enough line volume of irradiation, has good sterilizing effect, but also effectively reduces the influence of ultra pure water.
Feature:
•304 polished stainless steel reactor
•Quartz sleeve ensure the best working temperature
•Comprehensive,rapid and efficient sterilization, sterilization, the highest rate is 99.9%, higher output, physical sterilization, No side effects, n no secondary pollution
•All stainless steel shell, the European technology, smooth inner wall. Not Blind Angle.
•Clean equipment,electroplating polishing,applicable to high purifying environment
•The electrical device is configured to the world market
•Special design, more convenient
Application area
•Food processing industrial water disinfection, including juice, milk, beverage, beer, edible oil, and various kinds of canned products such as cold drink, water disinfection
•Electronic industry use the ultra pure water
•Hospital, all kinds of laboratory water disinfection, and the high content to a causative agent wastewater disinfection
•Application water disinfection, including residents resident buildings, residential, office buildings, hotels, restaurants, tap water factory, etc
•Aquatic product processing purification disinfection, shellfish purification disinfection, fish processing purification disinfection,ect. •Military camps, the water supply system
•Urban wastewater disinfection, maximum capacity can reach above 1 million tons per day
•Swimming pools, water other entertainment water disinfection
•Cooling water disinfection, including power plant, nuclear power plant cooling water, industrial production cooling water, the central air conditioning system cooling water
•Biological, chemical medicine, cosmetics production with cooling water
•Sea water, fresh water nursery, breeding (fish, eels, shrimp, abalone, shellfish, etc) water, total processing water can reach above 200000 tons per day
•Agricultural water disinfection, including water and irrigation, greenhouse,ect.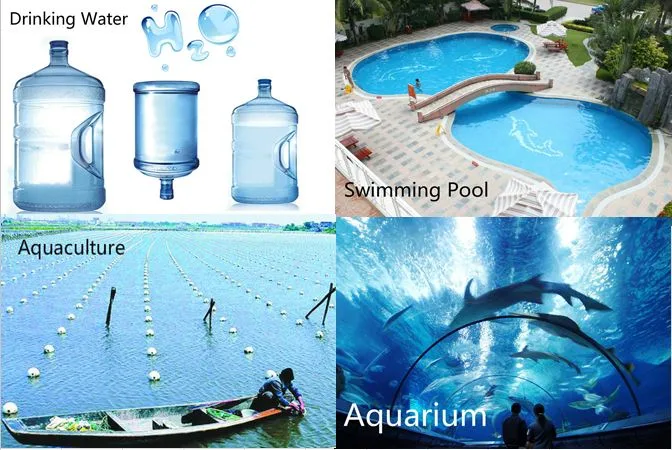 Certificates


Packaging & Delivery
OUR COMPANY
Jiangyin Feiyang Instrument Co., Ltd. was established in 1987, specialized in the development, manufacture and marketing of UV sterilizing products. The PHIYANG Mobile UVC Surface Sterilizer is designed to significantly reduce bacteria, viruses and molds in the air and on hard surfaces. Ideal for hospitals, medical rooms, patient rooms, restrooms, or anywhere there are concerns about harmful pathogens. We export our products to Southeast Asia, Europe, South America and other countries and regions.
PHIYANG brand products enjoy great popularity both at home and abroad. We are always providing the best products and services for customers, and sincerely hope to establish cooperative relationships with every customer.
Team