Large BDF water tank storage water tanks water storage tank
Dezhou Huili Tank Co.Ltd.,is a professional production enterprise specializing in the production and design of the water tank(including Stainless steel water tank, GRP/FRP water tank ,steel panel water tank-Hot dip galvanized water tank,Enameled steel water tank,Gush paint steel water tank,BDF water tank and etc.)the products
are exported to Southeast Asia and Africa etc.
BDF watet tank Description
What is BDF water tank?
BDF water tank panel is a kind of compound material that interior is stainless steel material, exterior is hot dip galvanized sheet material.

The biggest advantage of BDF tank is that it can be used as underground water tank.
Underground water tank can be used in many engineering, deep buried depth, sometimes up to 4 ~ 5 meters, ordinary water tank can't be buried so deeply in underground, because of overwhelming of the underground soil pressure, and ground water tank is specially to solve this problem as the research and development, able to withstand a lot of soil pressure, even after the buried soil and tank top reinforcement processing can withstand the pressure of a small car.

Now the rain water recycling system is inevitable to use underground water tank, underground water tank in this field is still very popular.

BDF tank can also contain drinking water on the ground, because of its internal stainless steel fittings, drinking water is completely harmless to the human body, BDF tank can be universal tank on the ground and underground.
Specification
parameter
Large BDF water tank storage water tanks water storage tank
Material: The board is the center of the center of the technical innovation ,which inside use the SS304 and outside use the hot dip galvanized steel. This is perfect combination of the advantage of the stainless steel water tank and hot dip galvanized steel water tank .
Panel size: 1*1m,1*0.5m ,1*1m.the screw assembling way is flexible for any volume the water tank.
Bottom: Cover the trinity mixture fill thickness 300mm,tamp compactly ,the prefabricate thetankconcrete base.
Tank surface :paint bituminous epoxy piant/black paint .
Tank surrounding : prefabricate concrete block pillar.
Height: each pillar height should higher than the total height of water tank.height add concrete bottom height--the distance between the top concrete block pillar and ground surface is300mm.
Width:400mm-600mm.
Length:1000-1500mm.
Separation distance between each pillar:1500mm-2500mm.
Distance between each pillar:10mm-20mm.
Left space:fill with the soil.
Large BDF water tank storage water tanks water storage tank
Tank Height(mm)
Thickness of each panel
Bottom Panel
1st layer side panel
2nd layer side panel
3rd layer side panel
4th layer side panel
Cover panel
1000
2.5#
2.5#
/
/
/

2#

1500
2.5#
2.5#
2.5#
/
/
2000
3#
3#
2.5#
/
/
2500
3#
3#
2.5#
2.5#
/
3000
3.5#
3#
3#
2.5#
/
3500
3.5#
3.5#
3#
2.5#
2.5#
4000
3.5#
3.5#
3.5#
3#
2.5#
Notice:
If the BDF water tank for underground,the all panel thickness needbe all 3.5#
Large BDF water tank storage water tanks water storage tank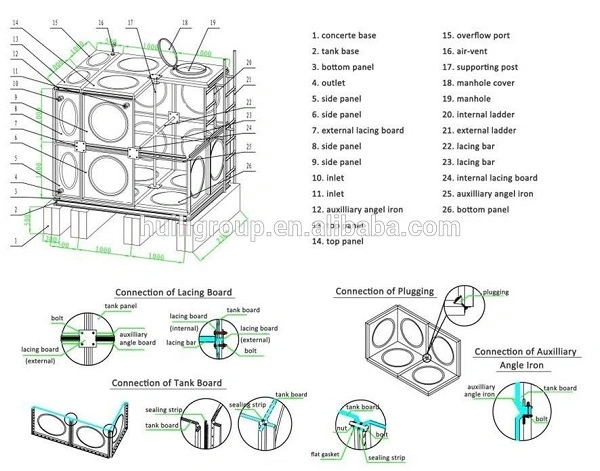 Accessories: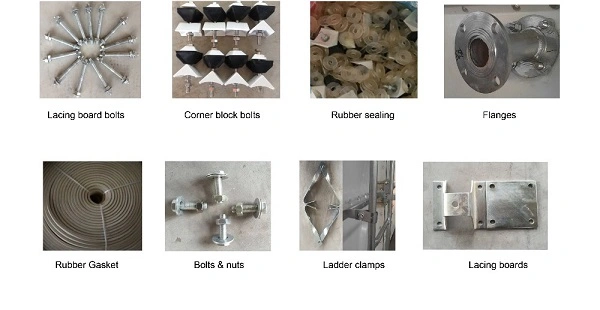 BDF water tank Advantages
1. Possessing the function of the stainless steel water tank .
2.The panel thickness is only two types:2.8# and 3.4# which furthest guarantee the working time and quality of the tank body.
3.The cover can be the hot dip steel board which can furthest limit your cost.
4.Imported material,never rust.
5.Choose import food grade stainless steel plate, corrosion resistance is strong, and can effectively reflect the sun's rays, not long moss, keep the water clean.
6.Light weight. Weight is only about a third of ordinary steel water tank.
7.Low price with stamping process type forming process,the characteristicplate type,with the minimum consumption of materials to achieve high strength requirements. the price is close to ordinary steel tank.
8.Unique structural design. It will never leak, welding, high intensity, and It is different withbolt structure , eliminating the sealing strip, won't appear the phenomenon of leakage and untight seal .
Packaging and shipping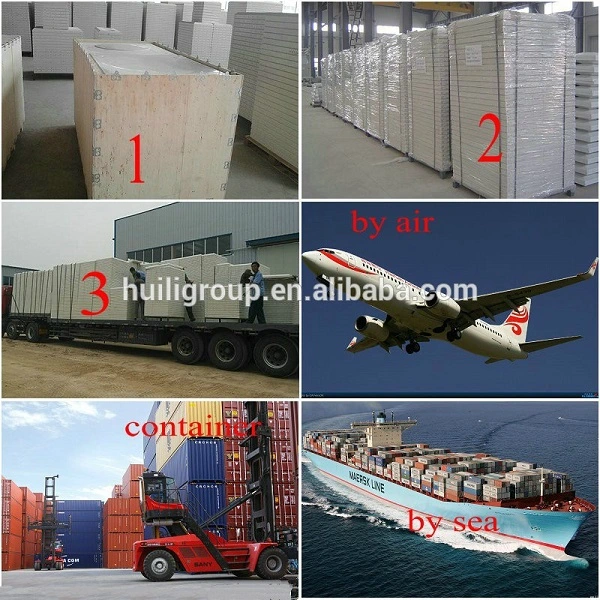 FAQ
Q1:
Can i only send you the CAD drawing or 3D drawing , and you make the sample for me to test , it's OK?
A:
Yes ,we can make the product that you need based on the sketch drawing or 3D Drawing
Q2:
Can I go visit your company?
A:
Yes, of course! You're warmly welcome! If you come, please feel free to contact us. We will pick you up!
Q3:
You are a factory or trade company?
A:
We are a factory which located in dezhou, Shandong, China.
Q4:
Do you accept samples order?
A:
Yes we can accept.
Q5:
Can you make a confidentiality for our project ?
A:
Yes of cou
r
se. We can sign a confidentiality agreement for you.
Factory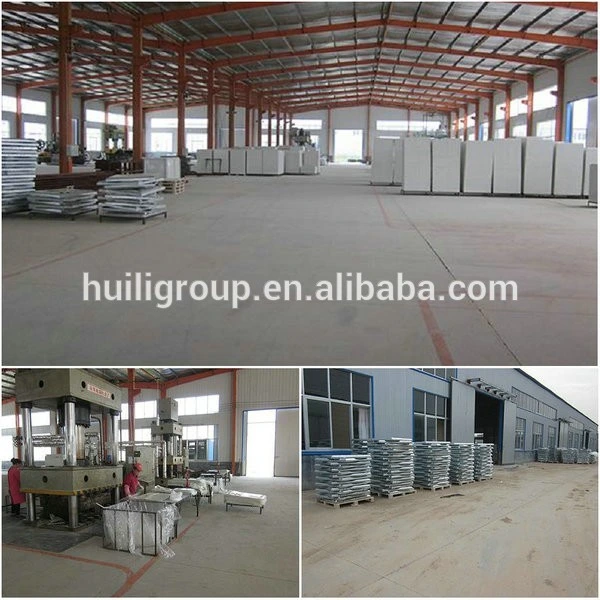 Dezhou Huili Environmental Technology Co.,Ltd
is a professional production enterprise specializing in the production and design of the water tank .
Company's products include:
fiber glass reinforced plastic water tank, stainless steel water
tank,enamel steel water tank,
hot dip galvanized steel water tank, gush-paint steel water tank and undergrou
n
d water tank
Company tenets: quality first, customer first and best credibility!The same price with best quality,the same quality with highest reputation!
The company has a professional after-sale service institution, each service branch are provided with a fixed installation and after sale service personnel to ensure the user to get a response from us in the first time.
Our customer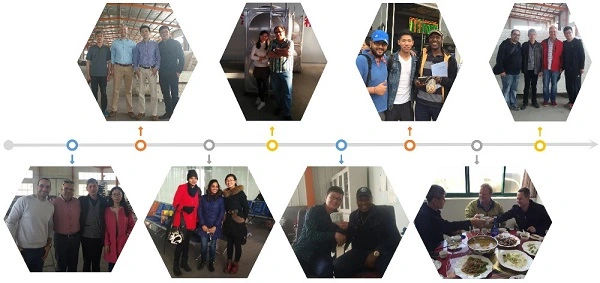 Our certification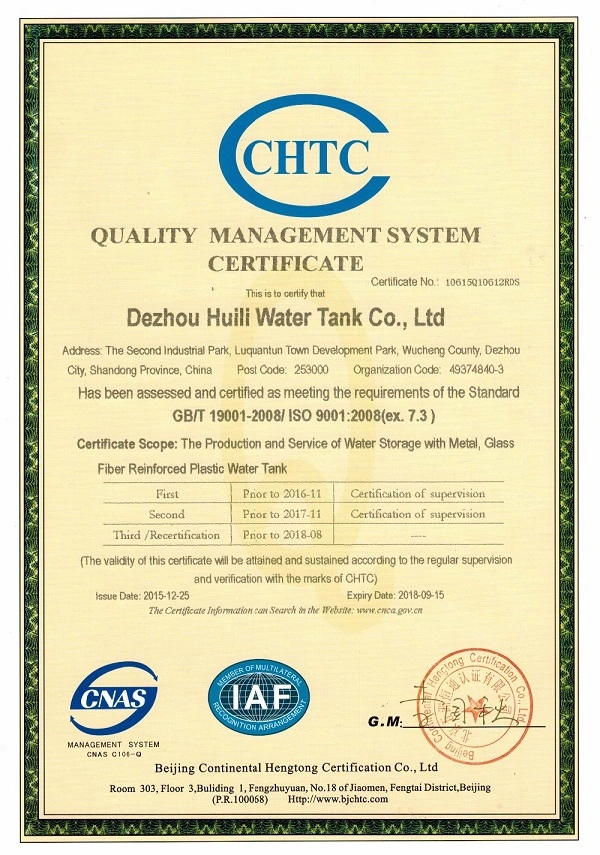 Contact us
Contact person:
Diana Cui
Phone Number:
0086-186 1534 3652